NZL v NSW Young Rider Challenge Wrap Up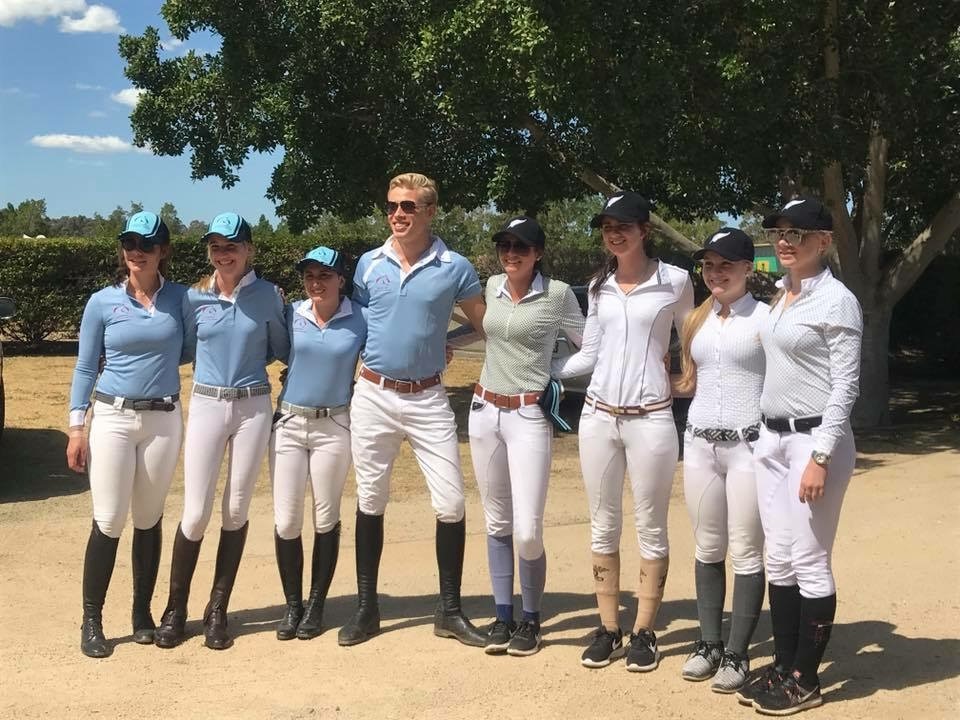 NSW v NZ Young Rider Teams Challenge Competition – Sydney 2017
By Steph Mackillop
What an exciting competition this was! The New Zealanders bought over an incredibly strong team of their top 4 Young Riders in the country to battle it out with a NSW team. Lucinda Askin, Briar Burnett-Grant, Emily Hayward-Morgan and Lily Tootill made up the NZ team. Our NSW team consisting of myself, Valentina Aliprandi, Millie Fisher and Maverick Miles were all pretty excited coming into this battle however our main goal was just to go out there, ride our very best and most importantly have a great time!
The NSW team pulled together a great collection of 8 borrowed horses for the event just in time, a huge effort by the team together with Jane Frankum. Massive thanks must go to all of the horse owners that kindly lent us their horses. Thank you to for the teams to ride, the event would not have happened without you.
Day 1 started with the teams having a meet and greet followed by the first coin toss of the competition. NSW lost the first coin toss meaning the NZ team had the pick of which pool of horses they wanted first. We then divvied up the horses between us for the first day and off we went with our wonderful Chef de Equip Colleen Brook to walk the course.
The first day didn't quite go to plan for the NZ team with them ending on a final score of 16, however the NSW team all rode incredibly to finish on only 8 penalties total to take the win. The NZ pool of horses was probably the trickier of the two pools of horses. So day 2 they were ours.
Coming into day 2 we were feeling very determined to do our very best on the horses we were given, to get the best out of them. I couldn't have been prouder with the way our team rode those horses with all horses coming out with lower scores than the previous day. Unfortunately, although a win in my mind, we came out 2nd on day 2 by only 1 rail with NZ on a total of 12 and NSW a total of 16 over the two rounds. This left NSW on a total point score of 8 and NZ 9 going into the final, as NZ had gained a bonus point in the first round of day 2 by jumping 3 clear rounds.
The second coin toss was won by Colleen resulting in NSW getting first pick of the horses. This ended in us having a strong, but fairly matched team with the NZ team for the final.
Day 3, the final day and the pressure was on. We were only 1 point behind so it would come down to whoever won the class. Round 1 was neck and neck with 3 of the NZ team jumping clear and 3 of our team clocking clear rounds. 1 bonus point to each team pushed the point score up to 10 for NZ and 9 for NSW. This made the second round even more exciting.
NSW was out first (as I lost the third coin toss, but we were happy to go first anyway!) in the draw and we finished round 2 with a total of 12. The kiwis were neck and neck until their last rider who, in order to force a jump off, had to jump a clear round. The pressure was too much and they had 2 down leaving them with a total of 20 and the win went to us!!! The total point score was left at 13 to NZ and 14 to NSW.
We were all ecstatic with the win and very grateful to the NZ team for providing us with such great competition. It really came down to the wire making it a thrilling competition to be involved in.
Congratulations to team NSW on a fantastic win. Our team spirit, positive attitudes, determination and adjustability on different types of horses got us over the line and I couldn't be prouder.
We all can't thank Jane Frankum and Jumping NSW enough for organising a fun competition that gave us all so much experience. These events are such a fantastic opportunity for young riders to gain invaluable experience riding in a team, riding under pressure and riding many different types of horses.