Results
2022
CLICK HERE to view Results from the 2022 NSW Showjumping Championships
CLICK HERE to view Results from the ESP Winter Festival 2022
CLICK HERE to view Results from the ESP Oaks Sport Horses Autumn Show 2022 
CLICK HERE to view the Tamworth the NSW Indoor Championship
2019
2019 Winter Classic Results.xlsx
Camden Show Results 2019.xlsx
Riders Series Results @ Feb 10 2019.xlsx
Results from 2018 Summer Showjumping Classic can be found on the link below:
http://www.equussentials.com/external/showresults.php?org=jnsw&show=summerclassic&year=2018
2018 Australian Show Jumping Champinoships
National Champions- Junior Team NSW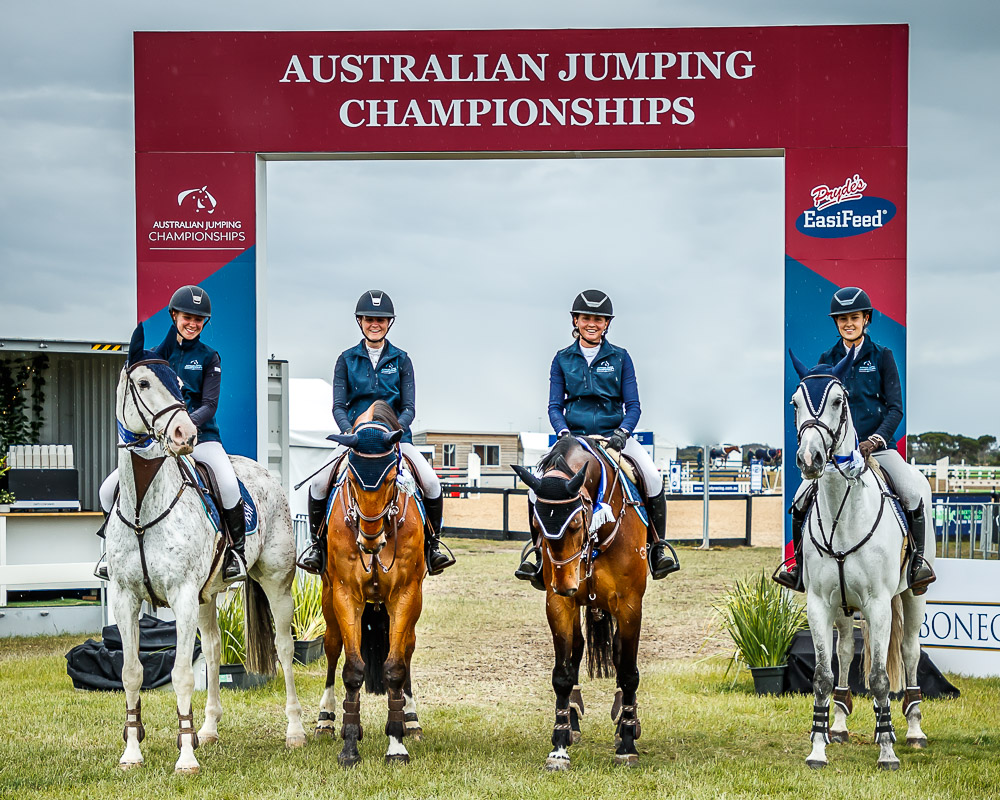 From Left: Sophie Hatch, Jess Rice Ward, Sally Simmonds, Amelia Douglas.
National Champion – Young Rider Team NSW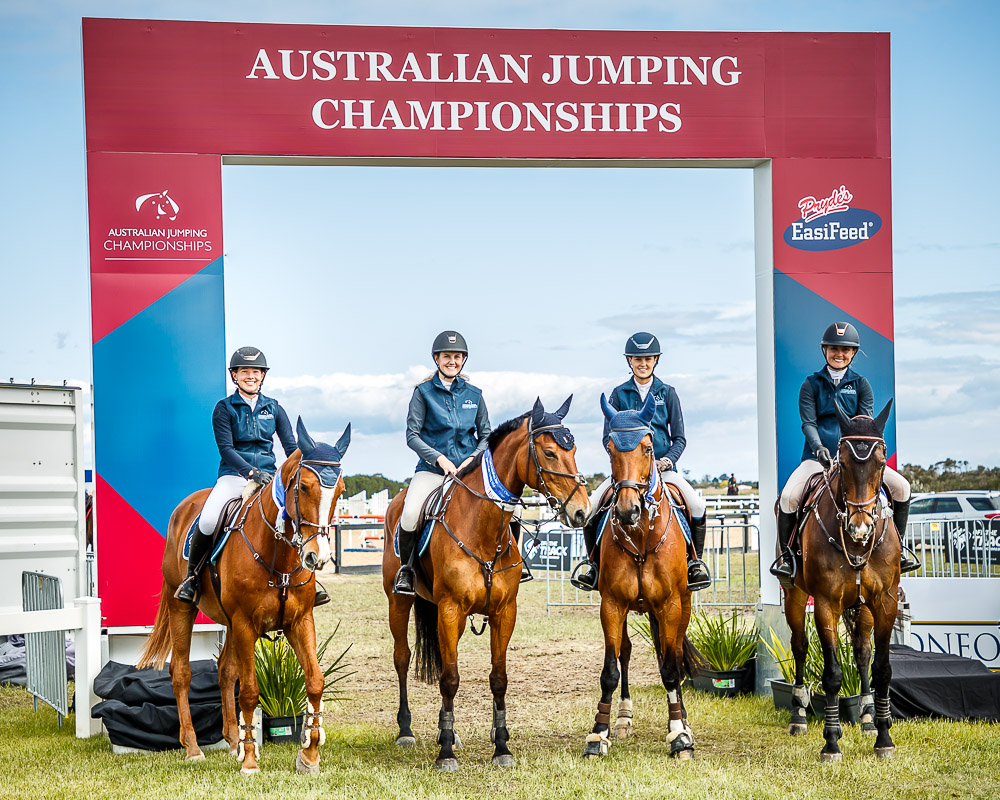 From Left: Madelaine Sinderberry, Jessica Tripp, Amelia Douglas, Jamie Priestley.
National Champion – Senior Team NSW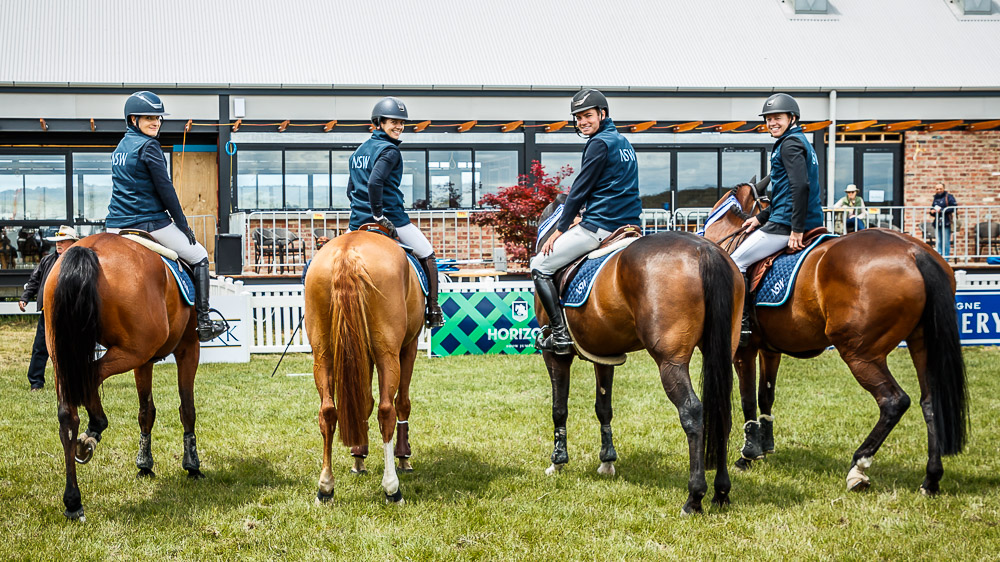 From left: Amber Fuller, Gabrielle Kuna, Tom McDermott, Aaron Hadlow.
Photo Credit: Stephen Mowbray
State Title Results
Results from 2018 State Titles
Results from 2018 Country Championships
Results from Competitions using JJD Live Scoring
<span class='"file' data-fid='"2888"'><img title='"application/vnd.openxmlformats-officedocument.spreadsheetml.sheet"' class='"file-icon"' alt='""' src='"/modules/file/icons/x-office-spreadsheet.png"'> </span>
2018 Camden Winter Showjumping Festival RESULTS.xls
Results Camden Show 2018.xlsx
 Results - The Riders Series - February 2018.xlsx
2017 Country Champs AMATEUR FINAL.pdf 
2017 Country Champs BREEDERS FINAL.pdf 
2017 Country Champs FUTURITY FINAL.pdf 
2017 Country Champs JUNIOR FINAL.pdf 
2017 Country Champs MINI PRIX FINAL.pdf 
2017 Country Champs SENIOR FINAL.pdf 
2017 Country Champs YOUNG RIDER FINAL.pdf
Results - The Riders Series - October 2017.xlsx
2017 AWHA Jumping Day.xlsx
Results - 2016 Summer Showjumping Classic.xlsx
2016 Aus Youth SJ Festival Results.xlsx
NSW 2016 State Titles RESULTS.xlsx
Results The Riders Series 20th & 21st August 2016.xlsx
AWHA Gala Day RESULTS 30th July 2016.xlsx
Results Aquis Showjumping Classic Week 2..xlsx
Results Aquis Showjumping Classic Week 1.xlsx
Results 2016 Jumping at the Sydney CDI.xlsx
Results 2016 Castle Hill Show.xlsx
Results The Riders Series 13th 14th Feb 2016.xlsx
Results 2015 Summer Showjumping Classic.xlsx
2015 ACT Showjumping Cup Results.pdf
2015 National Interschools Jumping RESULTS.xlsx
Results 2015 NSW Jumping Championships 13 to 16 August.xlsx
AWHA Young Horse Show 1st August 2015.xlsxAWHA Young Horse Show 1st August 2015.xlsx
Results The Riders Series 11th 12th July 2015.xlsx
Dubbo Show Showjumping Results 2015.pdf
 NSW Interschools Jumping Results June 2015.xlsx
2015 Camden Winter Festival RESULTS.xlsx
The Riders Series Results 2015.xlsx
Results 2015 Castle Hill Show.xlsx
Hunter Region Showjumping Championships
NSW State Showjumping Championships LIVE RESULTS - ARENA 1
Australian Youth Showjumping Festival Results
FEI World Jumping Challenge Category A, June 7-8 2014
FEI World Jumping Challenge Category A, June 7-8 2014