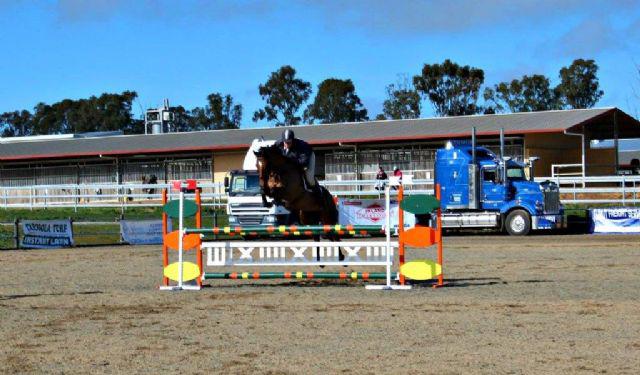 Riverina Equestrian Association Showjumping Festival Weekend on August 2nd -3rd 2014
REA Showjumping Festival
It was a gorgeous sunny weekend for the Riverina Equestrian Association (REA) Showjumping Festival, which was held at the Equine Centre of the Charles Sturt University (CSU) Wagga Wagga on August 2nd and 3rd, 2014.
The new 70m by 90m purpose-built sand-rubber mix surfaced arena was tested for the first time by showjumpers to rave reviews! Riders from around the area as well as Canberra praised the surface and how the horses jumped on it, stating that it is "one of the best in Australia". Classes in the main arena, which were very generously sponsored by major sponsors Inland Truck Centre, Tarcoola Turf and Tarcoola Quarries, ranged in height from 1.05 metres to 1.30 metres. The surface withstanding very well the force that horses in the larger classes put into the ground.
We were very fortunate to have the services of Longarch Equestrian services in this ring, which is a joint business bringing one of the top course designers in Australia, Brad Longhurst, together with top judge Michael Archer for our debut in this fantastic arena. Longarch supply their own showjumps with their services and the brilliant colours and themes of the jumps themselves served well to make the arena look like the top quality training and performance venue that it is.
The Showjumping Festival catered for all levels of horses and riders, and the committee were very pleased with the almost 100 participating riders and over 500 rounds of competition over the weekend. The Indoor arena played host to riders in the 80cm to 1m heights and the smaller outdoor arena hosted the novice riders and horses from cross rails to 70cm. It was a real thrill to see so many younger or less experienced riders and horses getting in and having a go in the glorious sunshine over the weekend!
As the infrastructure develops at the University Equine Centre, the quality of show that will be able to be held here will be absolutely top class and will be sure to attract the best riders and horses in the country, including those vying for Australian representation at international events!
Overall junior and senior champions in each arena were awarded with much coveted embroidered woollen rugs kindly donated by Saddleworld Wagga Wagga. The champions were:
Ring 1:
Champion - Jess Davies of Wamboin, NSW
Runner-up - Sharyn Reed of Evatt, ACT
Ring 2:
Junior Champion - Jess Davies of Wamboin, NSW
Senior Champion - Belinda McMahon of Ladysmith, NSW
Ring 3:
Junior Champion - Ryleigh O'Hare of Wagga Wagga, NSW
Senior Champion - Daniel Thuillier of Sutton, NSW
FULL RESULTS:
~~Main Arena
Saturday
Class 1a - 1.05m for horses under 16 points AM5
1st  S Tsimbalyuk  Carpe Diem
2nd D Thuillier  Yaramelea Excalibur
3rd  S Dingwall  DF Cavalier
4th J Grant   Cosmorex Coffee Viva
Class 1b - 1.05m for junior riders AM5
1st J Davies  Sitting Pretty
2nd S Davies  Mike Manly
3rd Anna Ryan  Missile
4th Maddison Perryman Sir Dougall
Class 2a - 1.10m Open Two Phase
1st J Davies  Sitting Pretty
2nd M Lucas  Repete
3rd S Reed   Mystic Ego
4th D Churchill  Ozzie Gold
Class 2b - 1.10m Amateur Two Phase
1st S Reed   Mystic Roy
2nd S Fenn   Woodside Moonlord
3rd M Rochford  My Buddy Boy
4th D Thuillier  Yaramalea Cajun
Class 3 - Open 1.20m AM5
1st  S Reed   Mystic Ego
2nd B Mcmahon  Alhambra Anonymous
3rd S Davis  Saddle Up Valentine
4th G Lucas  Peace Destiny
Class 4 - Open 1.30m Two Phase
1st  J Grant   Chintaria
2nd C Brewer  Maximouse
3rd G Lucas  Peace Destiny
4th C Brewer  Kahurangi Tordak
Sunday
Class 5a - 1.05m for horses under 16 points Superphase
1st M Rochford  My Buddy Boy
2nd K Cross  Emmaville DiCaprio
3rd B McMahon  Alhambra Ivy League
4th S Dingwall  Cavalier Winston
Class 5b - 1.05m Junior Superphase
1st J Davies  Sitting Pretty
2nd Anna Ryan  Missile
3rd S Davies  Mike Manly
4th  M Perryman  Sir Dougall
Class 6a - Open 1.10m AM5
1st Steph Davies  Valentine
2nd S Dingwall  Cavalier Winston
3rd B McMahon  Alhambra Anonymous
4th Sarah Davies  Mike Manly
Class 6b - Amateur 1.10m AM5
1st S Reed   Mystic Roy
2nd S Fenn   Woodside Moonlord
3rd K Cross  Emmaville DiCaprio
4th C Oakley  Passion Pop
Class 7 - Open 1.20m Superphase
1st  E Longhurst  Rhapsody in Blue
2nd M Lucas  Peace Officer
3rd S Reed   Mystic Ego
4th G Lucas  Peace Destiny
Class 8 - Open 1.30m AM5
1st E Longhurst  Rhapsody in Blue
2nd J Grant   Chintaria
3rd G Lucas  Peace Destiny
4th C Brewer  Maximouse
Indoor Arena
Saturday
Class 9a - Senior 80cm Superphase
1st  E Brauer  Romac Pete
2nd L Ryan   Wagga
3rd S Menzies  Mr Stevens
4th E Habeman  Lolly
Class 9b - Junior 80cm Superphase
1st A Ryan Finn
2nd R Mcdermott Asb Spirit
3rd S Kurtzer Berocca
4th H Kurtzer Whisper
Class 10a - Senior 90cm AM5
1st B Mcmahon Alhambra All That Jazz
2nd S Menzies Midnight
3rd W Kimpton Strezleki
4th Mia Lauko Emmaville Protege
Class 10b - Junior 90cm AM5
1st  Chloe Mannell  Gilmore Bits N Pieces
2nd Jess Davies  Cant Decide
3rd Alex Ryan  Finn
4th Chloe Mannell  Paint By Numbers
Class 11a - Senior 1m Superphase
1st  Daniel Thuiller Yaramlea Cajun
2nd S Menzies  Midnight
3rd L Ryan   Wagga
4th B McMahon  Alhambra All That Jazz
Class 11b -Junior 1m Superphase
1st J Davies Cant Decide
2nd A Ryan Finn
3rd Anna Ryan Peace Councillor
Sunday
Class 12a - Senior 80cm AM5
1st  E Brauer Bromac Pete
2nd L Ryan  Wagga
3rd G Lucas Peace Ambassador
4th C Anderson Cotton Sox
Class 12b - Junior 80cm AM5
1st Chloe Mannell  Paint by Numbers
2nd S Kurtzer  Berocca
3rd K O'Hare  Spot the Crown
4th  A Ryan  Finn
Class 13a - Senior 90cm Superphase
1st B McMahon  Alhambra All That Jazz
2nd  L Ryan   Wagga
3rd S Dingwall  Cavalier du Rouet
4th G Lucas  Peace Ambassador
Class 13b - Junior 90cm Superphase
1st J Davies Can't Decide
2nd Alex Ryan Finn
3rd Alex Ryan Peace Councillor
4th C Mannell Bits n Pieces
Class 14a - Senior 1m AM5
1st B McMahon Alhambra All That Jazz
2nd  D Thuillier Excalibur
3rd D Thuillier Cajun
4th E Smith Noble Edge
Class 14b - Junior 1m AM5
1st Jess Davies Can't Decide
2nd C Mannell Bits n Pieces
3rd Alex Ryan Finn
4th Anna Ryan Peace Councillor
Arena 3
Saturday
Class 15 - X rails superphase
1st  Jodie Donovan Smokey
2nd Hannah Wilkin JJ
3rd Tiarne Wilsmith Show Me Love
4th Kaitlin Cooke  Tara
Class 16a - Open 50cm AM5
1st Daniel Thuillier Dexter
2nd Ces Staples  Summer
3rd Jodie Donovan Smokey
4th Abigail Haffenden Rastus
Class 16b - Junior 50cm AM5
1st Rylie Ohare  Yella Fella
2nd Caitlyn Staples Just Jack
3rd Alex Ryan  Gibson
4th Billie Bourke  Madison
Class 17a - Senior 60cm Superphase
1st Sam Mackella  Bundy
2nd Daniel Thuillier Dexter
3rd Tanya Harding Xpert
4th Mira Lauko  Hugo
Class 17b - Junior 60cm Superphase
1st Rylie Ohare  Yella Fella
2nd Alex Ryan  Gibson
3rd Flynn Rowley  Tango
4th Rylie Ohare  Dylan
Class 18a - Senior 70 cm AM5
1st Emma Brauer  Romac Pepe
2nd Tanya Harding Xpert
3rd Michael Lucas  Perko
4th M Maisano  Quizical
Class 18b - Junior 70cm AM5
1st S Kurtzer Berocca
2nd H Kurtzer Whisper
3rd H Staples Camerena
4th K Staples Belarina
Sunday
Class 19 - Open X rails AM5
1st Sam McKellar  Timone
2nd Tiarn Wilesmith Show Me Love
3rd C Cox   Jedda
4th H Watts  Bandit
Class 20a - Senior 50cm Superphase
1st D Thuillier  Yaramlea Dexter
2nd C Staples  Summer
3rd Sam McKellar  Timone
4th Mira Lauko  Yaramlea Hugo
Class 20b - Junior 50cm Superphase
1st  Alex Ryan  Gibson
2nd Ryleigh O'Hare Yella Fella
3rd C Staples  Just Jack
4th H Wilkin  JJ
Class 21a - Senior 60cm AM5
1st J Post  Poca a Poca
2nd S MacKellar Bundy
3rd D Thuillier Yaramlea Dexter
4th S MacKellar Timone
Class 21b - Junior 60cm AM5
1st R O'Hare Yella Fella
2nd R O'Hare Dylan
3rd C Staples Just Jack
4th Billie Bourke Madison
Class 22a - Senior 70cm Superphase
1st E Smith Romana
2nd G Lucas Dancing 
3rd G Lucas Chloe
4th S MacKellar Bundy
Class 22b - Junior 70cm Superphase
1st K O'Hare Dex
2nd R O'Hare Dylan
3rd S Kurtzer Berocca
4th K Staples Belarina
Overall Champions
Main Arena
Champion - Jess Davies Sitting Pretty
Runner-up - Sharyn Reed Mystic Roy

Indoor Arena
Champion Senior rider - Belinda McMahon Alhambra All That Jazz
Champion Junior Rider - Jess Davies  Can't Decide
Arena 3
Champion Senior rider - Daniel Thuillier Yaramlea Dexter
Champion Junior rider - Ryleigh O'Hare Yella Fella
Overall champion REA club member - Ryleigh O'Hare and Yella Fella